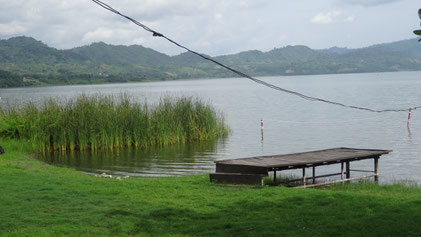 The Lake Bosomtwe is an awesome place to relax and enjoy nature. It is encircled by mountainous and thickly vegetated crater walls, which makes it a beautiful spot for walking, birding, fishing, hiking and canoeing. The clear and warm water is also perfect for swimming.
Located close to Kumasi in the Ashanti region of Ghana, Lake Bosomtwe is one of six meteoritic lakes in the world. It was formed by a meteorite impact million years ago and is considered a holy place for the population in the region. Due to the great spiritual charge of the Lake, it was forbidden to dip metallic objects into the water for a very long time. That is why the fishermen use small wooden boats, which are only driven by paddling with the hands or small wooden paddles.
As the lake has no real outflows and the tributaries are also limited, its water level always depends primarily on the amount of rainfall. A high amount of rainfall leads to a rising water level which results in villages around being "moved" further away from the shore. Due to these fluctuations, the shore is dotted with semi-sunken tree trunks, which create a special atmosphere and support the mystical impression of the lake.
Oral tradition has it that the Lake Bosomtwe was formed in 1648 when a hunter shot and injured an antelope. The antelope however continued its run until it disappeared in a small pond ahead. The hunter was astonished and decided to stay beside the pond and never returned to his home town. He then named the place "Bosomtwe" which in English translates "antelope god." He believed that the water was a god and saved the life of the antelope.
If you are curious to learn more about the mystery of the Lake Bosomtwe or experience it´s beautiful atmosphere yourself, contact us or book one of our Ghana Eco Tours!