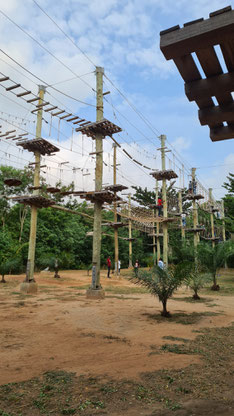 Legon Botanical Gardens is located in North Legon, Accra, right next to the University of Ghana. The garden has a natural vegetation of about 50 hectares with a big diversity of trees, plants, flowers and birds. It offers you the perfect opportunity to escape the hectic city life for a few hours. The large area with many tropical trees and flowers is ideal for picnics and leisurely walks. The garden also has a small lake where you can go for a canoe or rowing boat ride or try your luck at fishing.
In addition, the garden is a good choice for bird lovers. Here, you can find one of the highest concentration of nesting Yellow-billed kites in the city of Accra. The tall trees like Silk Cotton Tree and Mahogany provide a suiting breeding habitat for all kinds of bird species.
If you are more interested in adventure, you can try the Canopy-Walk with its 5 rope bridges and enjoy a stunning view over the city on one hand and the lake on the other hand. In case you are a fan of heights and a little challenge, you can line up for the High Rope Course and make your way through a series of platforms connected by cables, woods, and ropes.
Ideal for families with children, the garden also provides a big Children´s Playground with different stations for kids of all ages.
If you are curious to experience this oasis of peace, contact us or join one of our Ghana Eco Tours!