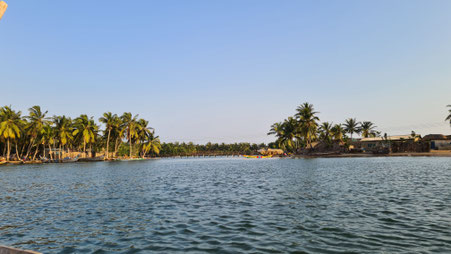 If you want to enjoy clean, long and palm-covered beaches in Ghana, Ada Foah and Big Ada are the places to be. Sandwiched between the River Volta and the South Atlantic Ocean, Ada offers unique nature at the Volta estuary. After its long journey through West Africa, the Great Volta River flows into the Ocean and you can see the two different colors of the water joining together. Today, the area is a popular tourist destination with numerous options of accommodation and activities.
You can visit the historic town of Ada Foah, discover the fishermen villages around and admire their artistically painted fishing boats. If you are lucky, you can even spot marine turtles along the beaches. Ada is also a perfect place for Seafood lovers – order an assorted Seafood platter in one of the various restaurants and enjoy the taste of fresh Lobster, Catfish and more.
If you have enough time, leisure and a sense for special nature, you can easily organize a boat tour to explore the Volta Delta from the water. Take a break at one of the many islands with its serene environment. Relax at the beaches, drink fresh coconut water and get in touch with the island residents who are always happy to share stories about their culture and the history of their island.
If you are curious about the life in Ada, contact us or join one of our Ghana Eco Tours to visit this beautiful piece of nature.